I love ondeh ondeh.
Especially the chewy ones.
And don't even get me started on how wonderfully shiok it is when the gula melaka oozes out after the first bite.
Nevertheless, these days i find the price of the said ondeh ondeh a tad too high off the shelves.
$1.30 for 3 tiny ones?
$2.40 for 6 that barely have any gula melaka inside?
No thanks!
I rather make it myself thank-you-very-much and so i did.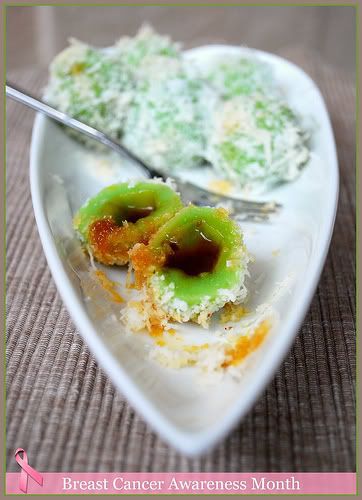 Oh, it's breast cancer awareness month this month hence the pink banner. Trying to do my part too :P
After looking through a few recipes, i roughly know what i really want.
A dough that is made from sweet potato no less!
It was mind blowing i tell you.
Apart from mashed sweet potato, i also added glutinous flour and oh, corn flour too for the chewy texture. The next time i savour any ondeh ondeh off the shelves, i am able to tell you if it has sweet potato in it or not. The difference is that a great.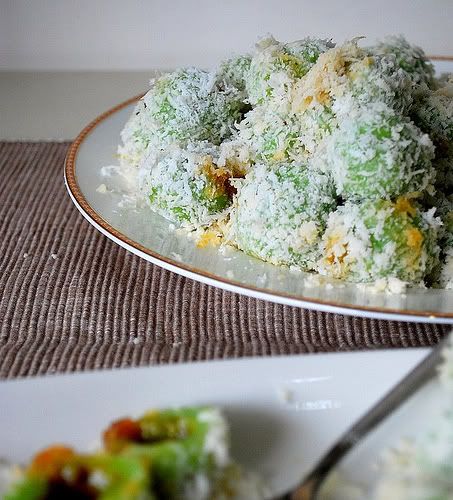 Because i love how the gula melaka burst out in my mouth, i made sure i added the right amount needed and true enough, i almost flew when i had one of my very first homemade ondeh ondeh.
Thereafter, i couldn't stop popping them!
The chewiness, the oozed-out-gula melaka and the very delicious freshly grated coconut which was steamed and mixed with a pinch of salt beforehand.
Fantabulous.
This photo is more of an art piece rather than a food photo :P Trying to be funny me!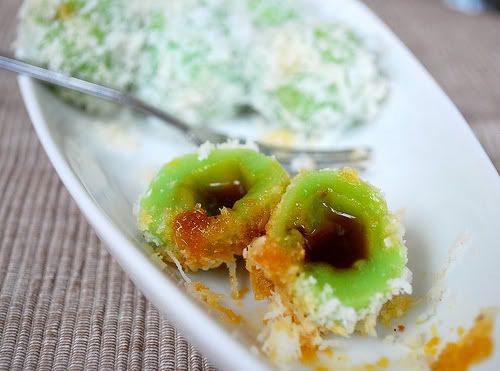 Lots of pictures for this entry.. so bear with me! :D
After downing more than 10 at 1 go, i gave up. I can eat no more. So was the helper who is as greedy as me. Lol.
So, i  gave them away to 2 neighbours.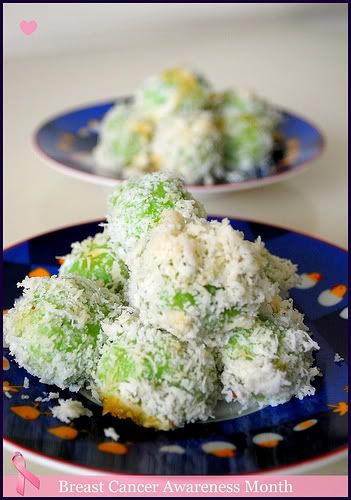 And the 3rd plate [which was not in the picture] was given to my in laws. I know my mil digs kuehs :)
Will i be making this again?
U bet!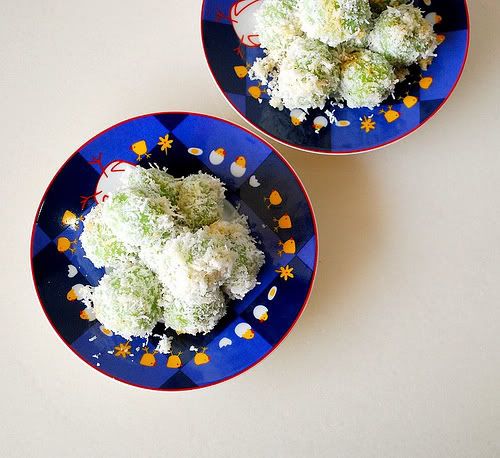 Okay okay, final picture. Promise! Had too much fun snapping the photos ah! :P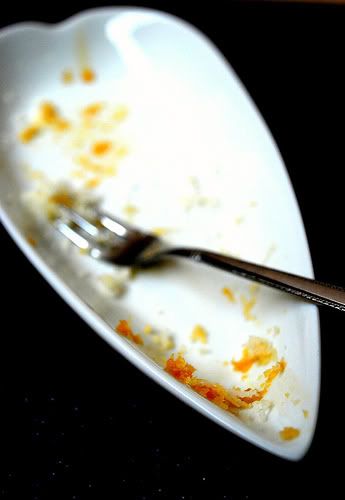 All in all, i have to say.. homemade ondeh ondeh is the best! I can never go back to the ones sold in stores anymore. Yeah, i know i'm such a snob sometimes. Heh :P