When i first got to know about Semifreddo, it kinda blew my socks away.
WHY?
Because it doesn't need an ice cream maker!
(i've got one but my ice cream making with it never turns out to what i'd expected. in another word, FAIL)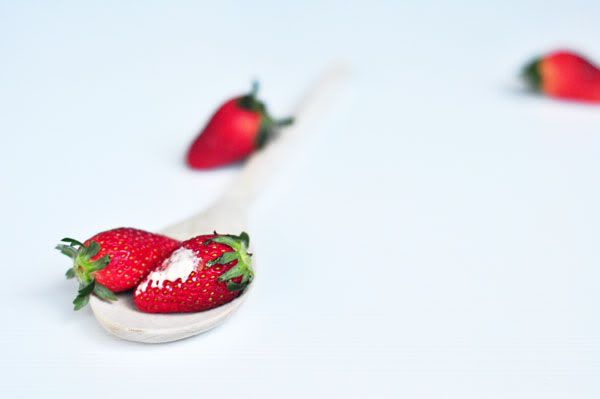 So, what is a Semifreddo?
"Semifreddo (Italian: "half cold") is a class of semi-frozen desserts, typically ice-cream cakes, semi-frozen custards, and certain fruit tarts. It has the texture of frozen mousse."
Aaaannnnnd, as mentioned above, no need for ice cream maker!
As some of you may have suspected, i have Anita's recipe bookmarked for the longest time ever.. May 2007, to be more specific, but never had the chance to churn it…
Until sometime last week.
That was also because i went crazy during marketing time and bought 12 punnets of strawberries!
The ironic part?
I still didn't churn Anita's strawberry semifreddo.
LOL.
Instead, i used the recipe from donna hay's magazine… mainly because it needs lesser ingredients *wink*
I almost didn't make them actually.
After all the preparation, i realized i need a hand-held electric mixer, which i don't have. The thought of whisking using *my* hand kinda tired me even before i got started! :P
After quitting for say, 10 mins, i was like, heck it.. surely i can make do with some biceps workout, no?And so, out the ingredients came, again. Grin.
How do i like my very first semifreddo?
Not bad.. not bad at all..
The only gripe.. me no likey the foam-y sides and top! Otherwise, it'd be perfect! The next time i churn this again, i will try not to whisk the yolks to ribbon-tail stage. Perhaps that it will help?
can see the foam-y part? :(
Strawberry Swirl Semifreddo
by donna hay
3 eggs
2 yolks, extra
1 tsp vanilla extract
1 cup caster sugar (i used 210g)
2 cups single cream
strawberry puree
750g strawberries, hulled
2 tbsp icing sugar
To make the puree, process the strawberries and sugar in a food processor until smooth. Set aside.
1. Place eggs, extra yolks, vanilla and sugar in a heatproof bowl over a saucepan of simmering water and using a hand-held electril mixer, beat for 6-8 mins or until thick and pale.
2. Remove from heat and beat for a further 6-8 mins or until cool.
3. Whisk the cream until stiff peaks form.
4. Gently fold cream through the egg mixture until well combined. Pour into a 2-litre capacity metal tin.
5. Spoon over the strawberry puree and gently fold it through the cream mixture for a swirled effect. Freeze for 6 hours or overnight.
6. Serves 6-8.
————————————